The Zero Subtitle dialog box can be opened from the Titles menu by clicking Edit Zero Subtitle or automatically when you open or create a subtitle file if this option is turned on.
You can switch off this dialog's appearance at startup by un-checking Show this dialog at Startup.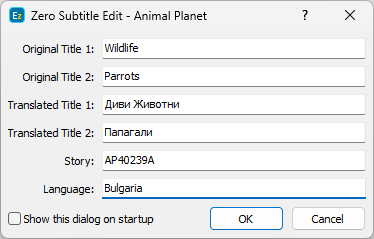 Zero Subtitle Dialog
In the dialog box shown above you enter the original title of the video material Original Title 1 and, if the title is longer than a single row, Original Title 2.
In the next two empty fields you enter the translated title Translated Title 1 and, if necessary, Translated Title 2.
The video material number (Story) and the target language of the translation (Language – in this case, Bulgarian).
However, the zero subtitle is built using several types of the zero subtitle templates (see the Zero Subtitle tab in the Project Settings dialog box), and you might encounter a completely different dialog box than the one shown above. If that is the case, contact your editor or system administrator for further guidance.
You can also create your own templates as shown in Zero Subtitle Templates but for the sake of accuracy it is strongly recommended that these templates are created by an editor or a system administrator.
please note that PAC format supports only the Zero Subtitle information available for templates (no Statistics etc.).
To unlock and allow direct edit of the zero subtitle in the main editor (without the help of this dialog box) use the Editing page in Preferences.
It can be accessed by selecting Preferences from the Edit menu.
Using the dialog box however minimizes the possibility for involuntary errors.