The EZTitles Property Page is another valuable tool which integrates in the Windows Explorer's contextual menu when installing EZTitles on your computer.
It reads the Details from a subtitle file saved as .EZT or .EZTXML, displays them in convenient manner to an external dialog and also provides other useful information like the total number of subtitles, characters and text lines contained in the file, the number of empty and hidden subtitles, subtitles without cues, first in-cue and last out-cue and the overall duration of all subtitles.
Thus you don't need to load the files one by one in EZTitles.
The Info Page could be extremely valuable if you need to check more than one file simultaneously as for example if they are consecutive episodes of a show or individual subtitle reels which will be included in one Digital Cinema Package (DCP).
So when you navigate to the location of the .EZT files you just need to select one, right click with your mouse and select the EZTitles Properties option from the list, as shown in the image below: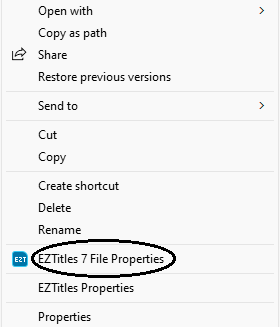 Then the following dialog will open:
It is divided in two parts: the list of files loaded to the left and their respective details to the right.
The Summary page provides details for all selected files.
As you can see on the image above, all episodes numbers and titles are present, as well as the total number of subtitles, text lines, characters, etc. contained in all files.
Since the space available at the Summary page is limited, only the couple of Titles or Episode numbers will be displayed.
please note that you can check them all by pointing your mouse over the three dots found at the respective sections.
To check the details of a particular file only, you just need to select it from the list to the left, and the Info Page will change its contents accordingly.