EZTitles allows you to configure import or export presets for each of the supported file formats so you don't need to check the settings each time you import or export a file.
Furthermore, the preset includes a default folder so there is no need to browse to it every time. Once the presets are configured, they will appear on the toolbar as two new items: Import Presets and Export Presets.
All available presets are listed there and you can click on one to import or export a file using the presets' pre-defined settings.
The Import/Export presets can also be accessed by a button on the toolbar and in this case you need first to open Tools/Customize dialog and browse the Commands page there.
Existing I/O Presets can be accessed from the Import/Export drop-down menu and can be dragged on the toolbar with the mouse.
The Import/Export presets can be configured using the Tools/Import Export Presets menu. The following dialog pops-up: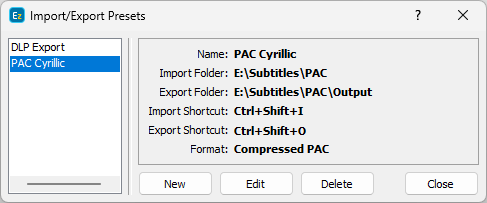 List with the available presets is displayed to the left side, and the detailed description of the selected one is present to the right.
The Delete button removes the selected preset from the list, the Edit changes its configuration and New opens another dialog where you will actually configure the preset.
The preset could apply for import, export or both. It includes the file format, the specific configuration, keyboard shortcut and the default folders where you will save or import these files.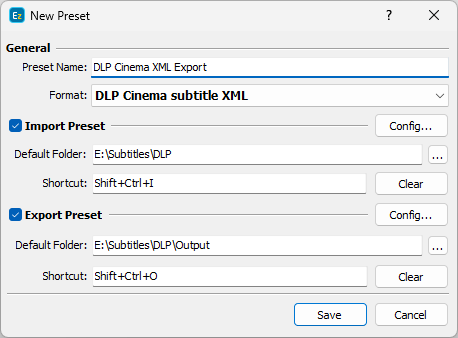 Pressing the Change button you can specify the input/output file format, selecting it from a list with all available file formats.
To enable Import or Export preset simply click the checkbox in front of the corresponding section. Both sections have identical content with the only exception they do apply to different actions.
Default Folder - Is the folder where EZTitles will look for a file to Import or Export according to the type of the Preset you are using. It can be filled in manually or by using the Browse button to the right side.
Shortcut - Enables you to specify a keyboard combination for quick access to this preset. Click in the field and press the key combination. Ctrl, Alt, Shift buttons can be used plus one more key (letter, number or any of the num pad buttons on the keyboard).
Config - Most of the subtitle file formats have settings which need to be configured prior Import or Export. Pressing the Config button will display the associated configuration dialog.
More about it can be found at the Import Subtitles or respectively Export subtitles topics. Each of the supported subtitle file formats have their own configuration section explained with the corresponding subtopic.