The Split Subtitles (Ctrl + Alt + Enter), Word to Next Subtitle, Word to Previous Subtitle, Move Text to Next Subtitle and Move Text to Previous Subtitle all use data from the audio analysis to detect the timing of every word in the text. Respectively, EZTitles will adjust the In- and Out-cues automatically when using any of them for a video that's already been analyzed by the Subtitling Assistant.
The intelligent behavior of these commands is activated by default and is indicated by the "happy robot" icon that appears on your toolbar as soon as you start the Subtitling Assistant or load a video that has been previously analyzed:


Itelligent commands indication
You may notice that the Intelligent Commands act slightly differently than what you are used to for videos that are analyzed by the Subtitling Assistant. Split Subtitles in particular will discard the configuration set at the Edit/Preferences/Split Subtitle menu and will always adjust the cues in accordance to the time the particular line has been spoken in the video. In other words, it'll disregard the Split at current TC and Split depending on char position options.
In most cases, the intelligent commands will only help you to do the required operations faster and more accurately.

Considering, however, that they rely heavily on the accuracy of the transcribed audio, the end results may not always be as good. Loud and noisy scenes, low levels of the audio, character speaking in heavy accent or in different language typically cannot be transcribed accurately or even at all. Using the Intelligent commands in these parts of the video will most surely lead to issues and we recommend to turn them off temporarily for such scenarios.
You can toggle the intelligent behavior of these commands on and off by:
▪clicking on the robot icon

on your toolbar.
▪clicking Toggle Intelligent Commands from the Subtitling Assistant's drop-down menu: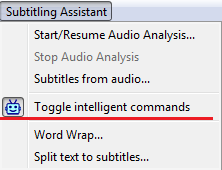 ▪assigning a shortcut for the Toggle Intelligent command.
Disabling the intelligent commands will be indicated by changing the robot icon from "happy" to "sad":

Disable Intelligent Commands