EZTitles exports three types of files compatible with different versions of Final Cut Pro or DaVinci Resolve. The specific version of the XML document can be selected from the Version drop-down menu:
| | |
| --- | --- |
| Final Cut Pro | Generates .xml files compatible with Final Cut Pro 7 or earlier. |
| Final Cut ProX | Exports .fcpxml files compatible with Final Cut Pro X. |
| Davinci Resolve | Exports .xml file compatible with Davinci Resolve. |
Depending on the selected Script Version, some of the additional options will be available for all versions of the exported file or just for some of them.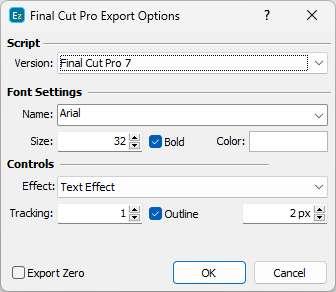 Final Cut Pro 7 export options
Name, Size,
Weight and Color

Enables you to select the font face, size, font weight and color for the text in the output file.

Effect

Enables you to choose between two different effect generators available in Final Cut Pro 7 and/or earlier version: Text Effect and Outline Text Effect.

Text Effect generator doesn't really support outlined text but such can still be simulated by applying Outer Glow with the appropriate Tracking and Outline thickness values.

Outline Text Effect generator applies "regular" border around the text when the Outline option has been clicked. The draw-back from it is that the text must be center-aligned and respectively, all subtitles will be exported as aligned in the center.
Note: There is also image based export compatible with FCP 7 and FCP X. If it is important to keep all presentation attributes you might consider using the images export.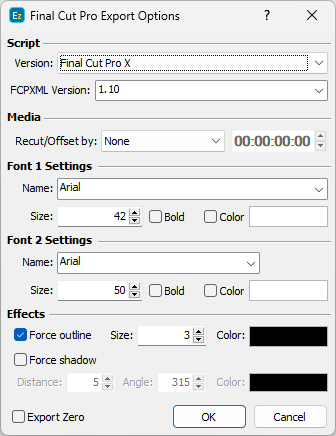 Final Cut Pro export optons
FCPXML Version

Enables you to select the exact version of Final Cut Pro X the file will be opened on. Final Cut Pro X ver. 1.10 is backwards compatible with document versions 1.5 and above. Earlier versions of FCP X may require document version 1.3 or 1.4. If you need a version for the output file that is not included in the drop-down list you can always add it by hand by typing it in the field.

Recut/Offset by

Allows you to Recut/Offset the subtitles during the export. This may be required for subtitle projects that do not start from 00:00:00:00, they are offset by an hour or more. Most video players assume the video always plays from 00:00:00:00 which creates synch issues with subtitles that are offset.

From the drop-down menu you can choose between the following options:

None - doesn't recut or offset the subtitles and they will be exported with their original timing.

Manual - allows you manually specify the offset for the recut.

Auto - automatically offsets the timing using the first subtitle's In-cue. All timecodes are offset backward with the first subtitle's In-cue rounded down to the closes hour. For example if the first subtitle originally starts at 10:00:32:21 after applying the recut it's start time will become 00:00:32:21.

Programme Start TC - automatically subtracts the value of the Programme Start TimeCode parameter saved in the Details. Programme Start TC can be selected from Video/Setup Timecode with a video opened in.

Video Start TC - automatically gets video's start time as specified in Video/Setup Timecode. This option can be used only when a video is loaded in.

Font Settings

Enables you to select the font face, size, font weight and color for the text in the output file. Note that when exporting FCPX compliant files there are options for Font1 and Font2 - the .fcpxml format can utlize and preserve information about the two fonts we use in EZTitles.

Effects

Allows you to force outline or shadow effect to all subtitles in the output. Clicking on either of them will make the options associated with Outline or Shadow effects configurable.

DaVinci Resolve export options
| | |
| --- | --- |
| Font Settings | Enables you to select the font face, size, font weight and color for the text in the output file. |
| Controls/Effects | Unfortunately, outline cannot be exported in this version of the document, respectively the options are disabled for it. |