This export is created according "iTunesTimed Text Package Specification" specification.
The exported .itt files are of great use to add captions videos in the iTunes platform. Before saving the file you may need to make some adjustments: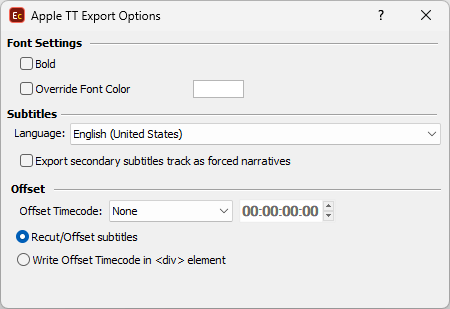 Apple iTunes Timed Text Export Configuration
Bold

If this one is clicked, then all subtitle will be exported in Bold.

Override Font Color

By clicking this on, you can override the text color with the one selected from the color palette.

Language

Indicates the Language used in the file.

Recut/Offset

Allows you to Recut/Offset the subtitles during the export. From the drop-down menu you can choose between the following options:

None - doesn't recut or offset the subtitles and they will be exported with their original timing.

Manual - allows you manually specify the offset for the recut.

Auto - automatically offsets the timing using the first subtitle's In-cue. All timecodes are offset backward with the first subtitle's In-cue rounded down to the closes hour. For example if the first subtitle originally starts at 10:00:32:21 after applying the recut it's start time will become 00:00:32:21.

Programme Start TC - automatically subtracts the value of the Programme Start TimeCode metadata parameter if available in the input file. Note that this parameter is supported for EBU STL, EBU-TT, EZT or EZTXML file formats only.

Video Start TC - automatically gets video's start time from the input EZT or EZTXML file and uses it to recut/offset the subtitles.

Export secondary subtitles track as Forced Narratives

Subtitles from the secondary subtitle track will be considered as Forced Narratives and will be exported as a separate file, according to iTunes Package Film Specification: https://help.apple.com/itc/filmspec/#/apdATD1E32-D1E1A1303-D1E32A1126
The option becomes available only if the loaded file contains two subtitle tracks.