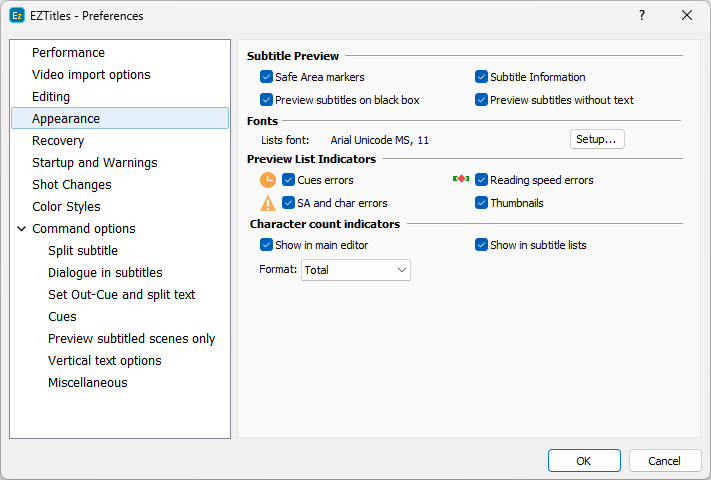 Preferences - Appearance
Safe Area markers

Safe area boundaries are displayed on the main screen.

Subtitle Information

Shows/hides presentation effects, Closed Captions style, number of text line in the subtitle, total number of subtitles and subtitle's Reading Speed in the lower- left or right corner of the main editor area (see Workspace Elements).

Preview subtitles on black blox

Places the subtitle text (usually white letters) over black boxes for better readability. The boxes are displayed in the EZTitles editor only for increasing text's readability and will not affect their presentation in the exported files.

Preview subtitles without text

This option works when EZTitles is running in Preview Mode and helps you distinguish whether the video is currently positioned on a subtitle without text or between two subtitles.

It will display a couple of gray dots in the EZTitles' main editor when a subtitle that doesn't contain text comes in play.
You can change the font that is used to display subtitles in the preview, draft and lists as well as the font used in the comment box.
Gives you control over the Preview and Draft lists appearance. You can choose which error indicators will be shown in the lists (see Error Indicators in Lists).
Thumbnails check-box switches on/off the small pictures from the video shown in the preview and draft lists.
Those options control the position of the character count indicators as well as their format.
| | |
| --- | --- |
| Show in main editor | Displays the character count indicators in a small "chat bubbles" in the lower right corner of the main editor. |
| Show in subtitle lists | Displays the character count in the Preview List, under the subtitle number, right next to each text line. |
| Format: Total | Displays the total number of characters currently entered on the line. |
| Format: Remaining | Displays the character count in the format XX/YY where XX is the number of characters remaining on each line until it exceeds the max. number of characters per row YY. |