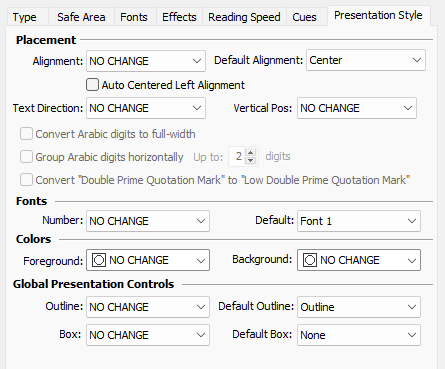 The options below control text's horizontal and vertical position of both horizontal and vertical subtitles. Alignment and placement of horizontal and vertical subtitles is controlled separately using different options. Selecting the NO CHANGE option would leave the original positioning as is in the input file.
Alignment

Changes text's horizontal alignment to Left, Center, Center-Left or Right aligned. Applies only to horizontally oriented subtitles.

Vertical Text Alignment

Changes text's alignment in vertical subtitles only. The options available are Start (from the top of the screen), Center, Center-Left (positioned in the center but justified to the top according the longest text line) and End (to the bottom of the screen). The recommend position for vertical subtitles is Start but this may vary from company to company.

Vertical Position

Changes text's vertical position on the screen to the Top or Bottom. Applies only to horizontally oriented subtitles.

Vertical Text Position

Changes placement of vertically oriented subtitles - to the Left or Right of of the screen. The recommend position is on the Left.

Auto Center-Left alignment

Automatically changes the alignment to center-left of center aligned subtitles containing dialogue: the subtitle remains aligned to the center but its lines are now justified to the left.

Only subtitles with lines starting with "-" or "–" are considered as containing dialogue.

Right-to-Left languages: Text will be displayed as "center-right" aligned following the writing direction which in this case is from right to left.

Text Direction

Can be used to switch subtitles orientation from Horizontal to Vertical or vice versa.

The following few options can be used only when changing text's orientation, i.e. Text Direction is configured as Horizontal or Vertical.

Convert Arabic digits to full-width - automatically converts all digits to full-width characters which is one of accepted ways to display digits and numbers in vertical subtitles.

Group Arabic digits horizontally - automatically creates Horizontal Groups for numbers containing up to the specified number of digits in them.

Convert Double Prime Quotation Mark to Low Double Prime Quotation Mark - Automatically converts the Double Prime Quotation Mark inserted at the end of the quotation, i.e. the one that closes the quotation, to "Low Double Prime Quotation Mark" (U+301F) when changing subtitles orientation from horizontal to vertical.
The "Low double prime quotation" is required by the delivery guidelines for subtitles in Japanese of some service providers, namely Netflix and Disney+.

For more information about Vertical Text, Horizontal Groups and display of digits/numbers in vertical subtitles, please refer to the dedicated About subtitles in East Asian languages topic.
EZConvert can operate with 2 different fonts (Properties/Fonts) and you can select which one to use during the conversion process. If you leave this to No Change, EZConvert will either use the font specified in the file or will use Font 1 as default.
The Foreground and Background colors options can be used to change the colors of all subtitles in the loaded file.
Some of the traditional formats like 890 and PAC can preserve both foreground and background colors while other like SRT support only foreground. On top of that there are other formats that are typically exported when EZTitles is working in Open/Native or Digital Cinema mode (WebVTT , the different types of Timed Text based file) that can replicate the two of them.
Background ground is typically associated with PAC, 890 and Teletext subtitles but it can also be viewed and displayed in Open/Native or Digital Cinema modes. For that the No Change or specific color, if the background color needs to be changed, is selected from the respective drop-down. This may help when converting some of the more traditional subtitling formats (EBU STL, PAC, 890, etc) and to other formats.
Background color can be exported automatically in the following formats: PAC, Unicode PAC, 890, EBU STL (Teletext lvl1 and lvl2), WebVTT, TTTML1/TTML2, IMSC1/IMSC 1.1, EBU-TT v1.0 and EBU-TT v1.1, SMPTE-TT Subtitles.
Box and Character (outline) styles are available in Native and PAC modes only. The properties of the effects (box color, opacity, etc.) are controlled with the Effects (Subtitle Presentation) page:
Character effects:
| | |
| --- | --- |
| None | No outline or shadow effect is applied. |
| Outline | An outline around the characters is drawn. |
| Dropshadow | A shadow behind the characters is drawn. |
| Outline dropshadow | Combines outline and dropshadow. |
Box effects:
| | |
| --- | --- |
| None | No box effect is applied. |
| Box | Draws a box behind the text. |
| Ghost boxed | Draws a transparent box behind the text. |
| Striped | Draws stripes behind the text across the screen. |
| Ghost stripe | Draws transparent stripes behind the text across the screen. |
| Block boxed | Draws a box with a width adjusted to the longest subtitle line. |
| Ghost block boxed | Same as Block boxed, but the box is transparent. |