Here you need to select the two fonts. Be sure to select the right languages, because they determine the encoding of the exported file: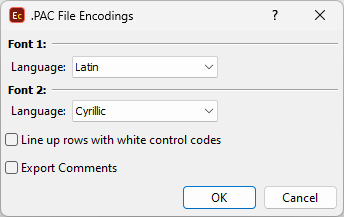 PAC Export Configuration
Note: If your current project mode is PAC (Project Mode), the configured languages and fonts (PAC/890 Mode Fonts) will be automatically applied on export.
When exporting to compressed PAC, you might come across the following message:
There are unprintable characters. Please import the PAC file and check the following subtitles:
Below the message there is a list of erroneous subtitles. We strongly recommend that you verify them accordingly in order to prevent any export errors.
You should know there is no vertical bottom, top or center position attributes with the PAC files. The vertical alignment is bound to the specific row number instead. For example, the top aligned subtitles are exported onto line number one.