The Format command opens a dialog box for formatting the text of the specified block of subtitles; formatting includes selection/modification of fonts (Font 1 / Font 2), style (normal/italic/double height for Teletext), alignment (left, right, centered, centered left aligned or not aligned), vertical alignment (top, center or bottom) and text colors. From the Presentation Controls section you can modify visual effects of the subtitles (boxed, outline, drop-shadow, etc.).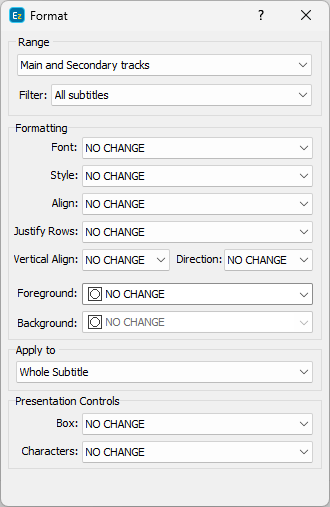 Format Subtitles dialog
Selecting NONE or NO CHANGE would mean that the respective attribute of the subtitles will not be modified and will be kept as it is.
You can choose to apply the formatting to all subtitles or to a specific range of subtitles (defined by timecode or by subtitle number). You can also apply your formatting to the marked subtitles or to the subtitles currently in the Draft list. More about selecting a subtitle range you can find here: Specifying Subtitle Range.
Additionally you can decide whether the changes will apply towards the whole subtitles, the first or second text line or to the lines formatted in Font 1 or Font 2.
Changes made with this command will only affect existing subtitles. They do not alter the default setting for these parameters, which means that any new subtitles will be created with the default settings and may need to be manually edited if needed. If you wish to change the default settings you will have to use the Subtitles and Effects tabs of the File/Project Settings dialog.
Include both subtitles tracks - the option will be displayed only when the project contains subtitles in the Main and Secondary tracks. Respectively, after activating it the Format operation will be applied simultaneously to the respective subtitles in both the Main and Secondary tracks.