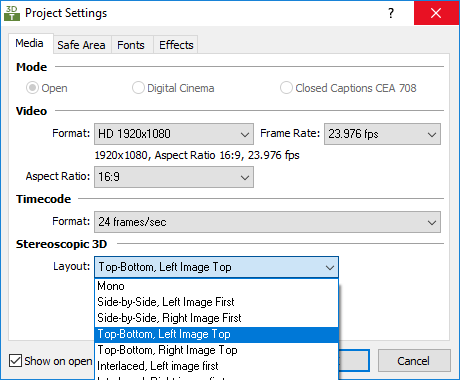 Here you can select the video and Stereoscopic 3D properties.
With 3DTitles you could prepare Open or Digital Cinema subtitles as well as Closed Captions with 3D. However, you will have to have the appropriate .ezt file prepared in advance by EZTitles for the project type you'll be using.
As with 3DTitles you could reflect, but could not change the project type your subtitles are being prepared for – Open subtitles or Closed captions. This is required because of the different techniques used in the creation of Open subtitles and Closed captions. As there are some specific requirements both open subtitles and closed captions need to address on their own terms.
Open Subtitles are intended for authoring to 3D Blu-ray Disc™ or editing and burn in by a NLE system such as Avid® Media Composer®, Adobe Premiere®, Final Cut Pro or even by Harmonic's ProMedia™ Carbon and WFS transcoding applications.
Subtitles for Digital Cinema must follow a specific set of rules and standards accepted and enforced by the motion pictures community. The Digital Cinema mode fully complies with the existing standards and most of the parameters will automatically be used by the DLP Cinema XML and SMPTE export options during the subtitles export.
Closed Captions on the other hand are intended for transmission as part of the VANC of the selected video material and can be switched on or off by the viewer.
CEA-708 captions could be exported as MCC only.
Here you can select the resolution, the frame rate and the aspect ratio of the video. All standard definition, HD, 2K and 4K resolutions are available.
Please, mind that the video size selected here not necessarily matches the loaded video file size. It is possible to use a draft copy of the movie with a smaller resolution in 3DTitles.
The video format size selected from here refers to the size of the final product i.e. the movie's resolution in our plug-ins or the video size of the project in 3D Bly-ray authoring system.
The timecode standard used for the current project. The available options are: 24 fps, 25 fps, 30 drop-frame and non-drop. Depending on the frame rate selected some of the options here could be shown or hidden.
Please mind that CEA-708 closed captions are usually produced and transmitted for videos running at 29.97fps drop-frame.
Along with the video frame rate, resolution and timecode format you can adjust the Stereoscopic 3D layout. The choices that you have are listed here:
Mono
Side-by-Side, Left Image First
Side-by-Side, Right Image First
Top-Bottom, Left Image Top
Top-Bottom, Right Image Top
Interlaced, Left Image First
Interlaced, Right Image First
Dual Stream
The layouts are discussed in details within the How does 3D work? section.