When you are working on a DVD project you can define the chapter breaks while subtitling or during the final preview.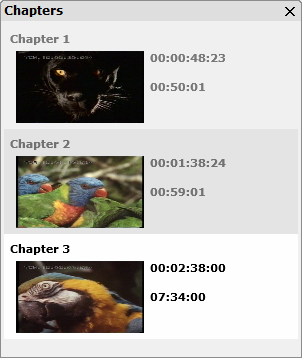 Chapter List
The Chapter List can be accessed from the View/Chapter List menu. You can dock it on the right side of the main window or make it floating by dragging it around or choosing the appropriate option from the menu brought on by the right mouse button. Working with the chapter list is similar to Preview and Draft lists. You can mark, unmark, delete, etc. chapters using the menu that the right mouse button provides.
After positioning the video, use Video/Create Chapter menu and the current video position will be added to the chapter list.
There is also a Create Chapter button which can be placed on the toolbar using Tools/Customize... command.
The button is located in List category. For more information about customizing the toolbars please read here.
The chapters are displayed with their sequential number, timecode, duration and a small image from the video as a preview. If the chapter is positioned in the middle of a subtitle it is displayed in red.
You can adjust the chapter's time code by selecting it first and then using "+" and "-" buttons on the numeric pad.
Once all chapters are defined you can export them as a text file from File/Export Chapter List menu or by right clicking in the Chapter List.
Using File/Import Chapters... menu you can read already exported chapters. You can also use this option to read chapters list created by any other software or defined manually.
The chapters list must be a text file containing sequential timecodes.