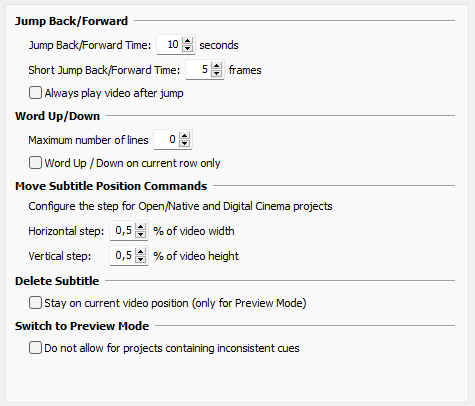 Miscellaneous options
Allows the jump back or forward time for the Jump Back/Forward and Short Jump Back/Forward commands to be changed. For more details please refer to the Video Playback topic.
Jump distance for the regular Jump Back/Forward commands can be set in seconds, while for the Short Jump Back/Forward ones only in frames (0-100 frames).
Controls the behavior of the Word Up/Down commands. The Word Up/Down actions will be canceled if the result exceeds the specified number of lines.
Word Up always moves a word from the bottom to the top line, while Word Down from the top to the bottom line thus they can be executed from any row in the editor.
Enabling the Word Up/Down on current row only option the commands will work only for the currently selected text row.
Controls the horizontal offset for the Move Row Left/Right and Move Subtitle Left/Right commands and the vertical offset for the Fine Move Subtitle Up/Down in Open/Native and Digital Cinema modes.
When deleting a subtitle EZTitles jumps back to the previous subtitle in the list thus changing the current video position.
Enabling Stay on current video position ... option will prevent this and the position in the video will be preserved.
Do not allow for projects containing inconsistent cues - Prevents activating Preview Mode if there are inconsistent cues in the current project.