The Video Mask option allows the user to draw rectangular region which masks or covers part of the loaded in EZTitles video picture. This may sometimes be required if there are visual elements in the picture which would otherwise obscure the normal display of the subtitles in EZTitles or will simply make them hard to proof read. Added in this way Video Mask will be visible in EZTitles only and details about it will be saved in the ~info.xml which EZTitles creates when a clip is loaded.
To add mask to the loaded in EZTitles video simply click on Video Mask item in the Video drop-down menu and the following will pop-up after that: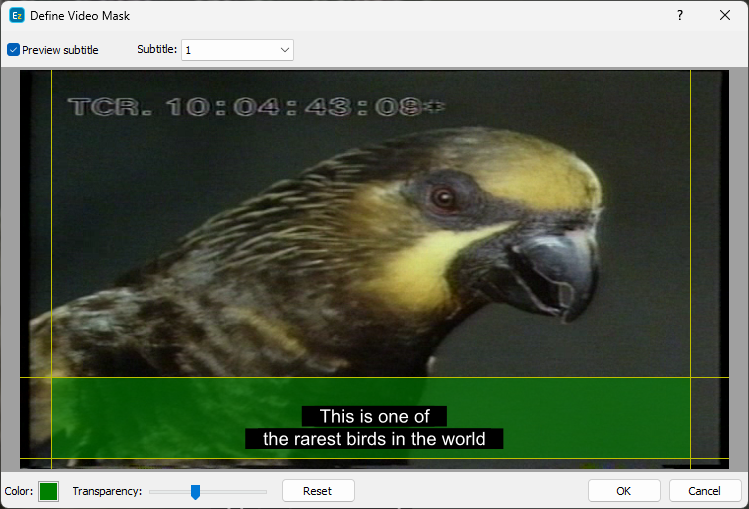 The yellow vertical and horizontal lines define the size of the region which will be covered by the mask. Any of the margins can be moved by using only the mouse: click over one of the margins, hold down the left mouse button and move the margins to its respective new position.
The Preview Subtitle option will display the currently selected in the editor subtitle or the subtitle selected from the corresponding drop-down menu.
Video mask's color can be changed as well - press the Color button to the bottom left and then select the color you like the most from the palette. And, if you wish so, you can also change the transparency of the video mask by using the respective Transparency slider next to the color pick-up button.
The Reset button, simply resets the size, color and transparency to their default values.
To remove video mask from the picture you simply need to switch it back off from the Video drop-down menu.