Inserted subtitles (1a, 13b, 20c, etc.) and subtitles with nonconsecutive numbers (e.g. 12 followed by 14 because subtitle 13 has been merged with 12 or deleted) can cause problems during playback when they are loaded in other applications. Hence we strongly recommend to use the Renumber command from the Titles menu, before submitting your work to your client.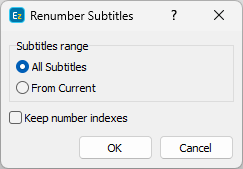 Renumber Subtitles
The Renumber command provides only a few options:
| | |
| --- | --- |
| All Subtitles | Renumbers all subtitles present in the file. |
| From Current | Renumbers all subtitles after the currently selected subtitle. |
| Keep Number Indexes | Renumbers the selected range of subtitles and preserves the indexes of the inserted subtitles. please mind that the renumber command will not affect inserted subtitles indexes which are nonconsecutive and will not change their indexes in consecutive order. |
Quick Renumber of the loaded file can also be performed using the Fix Subtitles options.