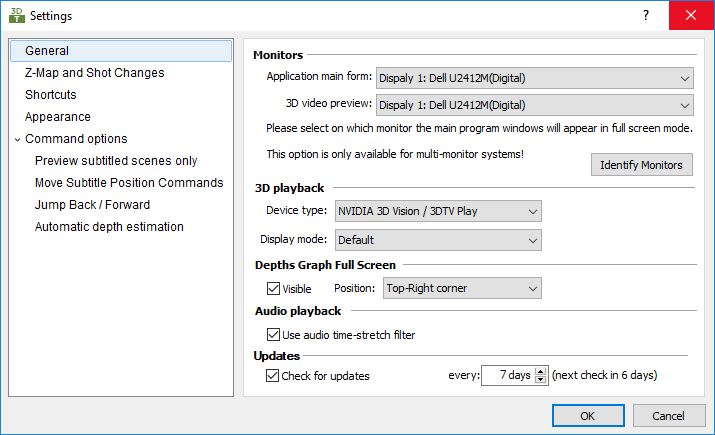 In a multi-monitor system you can select which is your 3D display device and where the program's window to be displayed. You can configure 3DTitles so you can have the program's main form and the full-screen 3D preview displayed simultaneously on two different monitors.
If you experience any problems identifying the monitors you can press the corresponding button and big numbers will be displayed for a few seconds on all monitors representing their numbers.
From the Device Type menu you could select the 3D display technology that will be used:
NVIDIA 3D Vision

Use this option if you have NVIDIA 3D Vision compatible video card, glasses and display device.

3DTV Play is another of NVIDIA's products which allows you to connect your TV to your computer.

Generic Side-by-Side

Most 3D TVs support and play videos in these stereoscopic 3D formats. Choosing any of them will allow you to enjoy the 3D preview directly on your 3D compatible TV.

Generic Top-Bottom
The Display Mode option allows you to change the resolution of the output picture on your 3D display and offers list of resolutions to choose from. The Default one will simply use the display device's current resolution.
Note: If you are using 3DTV Play the Display Mode shall be set to 1920x1080 24Hz, 1280x720 50Hz or 1280x720 60 Hz.
Switching the Visible option on enables the display of the Subtitle Depth Graph during the full screen, stereoscopic playback of the clip. Furthermore its position on the screen can be selected from the respective drop-down menu.
The only option available here is Use audio time-stretch filter. It is switched on by default.
This option significantly improves the sound quality when playing at speeds 1.5x and 2x, removing the pitch and keeping the speech understandable.
3DTitles will regularly check online for new versions and will inform you if there are any when the program starts. You are given the choice to select how frequently our software will check for updates or disable the check entirely.